---
An artistic approach of matter and volume
The option Art–Object is situated within contemporary art oriented training and includes the Clay/Ceramic, Glass, Jewellery, Metal, Paper/Book and Wood workshops, some of which date back to the 1892 origins of the Ecole supérieure des arts décoratifs of Strasbourg. Closely related to the field of sculpture, in its current manifestation ranging from actions to installations, the notion of object goes beyond the artist's book and jewellery. Through the use of diverse materials and high-level knowhow, students discover unexpected forms and expressions and produce new aesthetic approaches.
Although attached to the workshop they chose, students share teaching modules with the other workshops. Furthermore, the other specializations, Art, Design and Communication, collaborate with the workshops, places of fruitful multi- disciplinary encounters. Throughout their studies, students benefit from various forms of teaching: technical training, theoretical courses, language courses, individual tutorials, conferences, research workshops, seminars and workshops…
National Diplomas
– DNA National Diploma in Art-object (awarding a Bachelor's degree)
– Higher National Diploma of Visual Expression (awarding
a Master's degree)
Entry takes place after the multidisciplinary first year at HEAR or by an admission committee giving direct access to years 2, 3 or 4.
Contact Strasbourg
Julie Gigout
+ 33 (0)3 69 06 37 85
julie.gigout@hear.fr
Faculty
---
6 historical workshops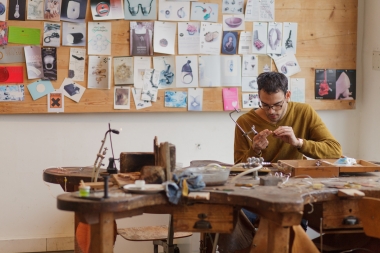 Jewellery Workshop
Jewellery as an artistic discipline and field of experimentation is a particularity of French art schools. Rooted in the Goldsmithing Workshop, the Jewellery Workshop at HEAR borders on contem- porary art and design. It is a place for acquiring and using techniques and for generating ideas related to the intrinsic qualities of the jewel and the complex evolution of body adornment. Students develop a relevant personal vision through the use of various materials and know-how. Whether an object of power or a popular Art–Object, the jewel is a small zone of materiality and jewellery is a portable art, situated on the body.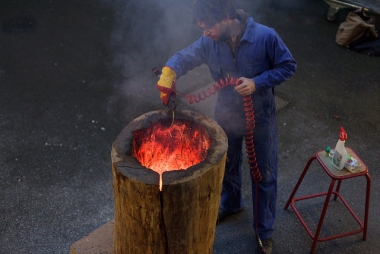 Wood Workshop
The Wood Workshop involves a technical approach to information about materials and their implementation but also a more conceptual approach related to the specific nature of the material with regard to the living world and to its cultural role. Such training is designed to provide students with the necessary elements in order to give them real autonomy and ensure their future independence as authors and artists. Although the main material employed is wood in all its aspects, other materials and other means of expression are developed, without restriction, in relation to the various projects undertaken by students.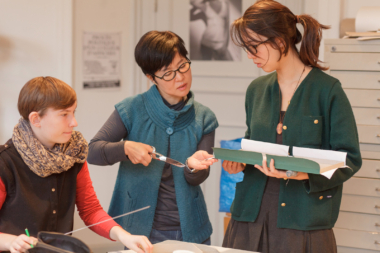 Paper/Book Workshop
The Book Workshop, which has arisen from a culture of book binding, is a place of research and experimentation and approaches the book as an object encoded by its historical uses and which is in a perpetual state of evolution. In its most recent manifestation, this approach is embodied in the concept of the «artist's book» which is rooted in diverse twentieth century experimental practices. The workshop combines theory and practice and aims to train students to understand the book-object as a medium in which form and content maintain an unstable but open relationship, especially in the era of digital mutation.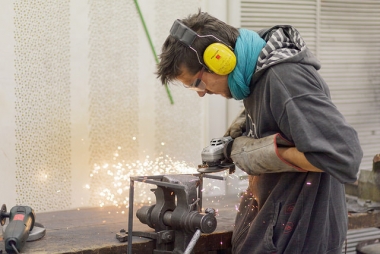 Metal Workshop
The Metal Workshop explores the concept of assemblage, static and dynamic experimental structures and all formal systems induced by metals and their physical properties. The workshop is based on free experimentation with a variety of materials and guides each student in a process that encourages openness and curiosity. Information technology, which is increasingly embedded in contemporary creation, is incorporated into the curricula.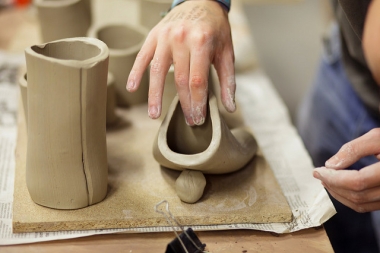 Clay/Ceramic Workshop
As an outstanding feature of French art schools, the Clay/Ceramic Workshop explores the medium of clay in terms of its uses, its history and its role in contemporary art practices. Such training facilitates approaches to the articulation of form and meaning in relation to sculpture, image and space. Clay and its derivatives are explored and manipulated in all forms (liquid, solid, unfired, fired) and at all temperatures. Using raw materials (oxides and minerals), students develop a personal formal repertoire to be employed in their projects.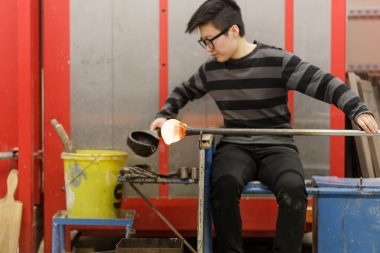 Glass Workshop
The Glass Workshop in Strasbourg is unique in the field of French art schools. It enables the development of work through technical and theoretical approaches to understanding the origins and role of glass in the field of contem- porary art, with critical distance. Students analyse and progress further in their work by using glass, as if it were any other medium, in a unique functional or poetic plastic production. Direct experimentation is the driving force behind each student's personal project. Weekly group discussions are a forum for monitoring projects and production.
---
Visiting artists
Germany: Bettina Dittlmann, Gereon Lepper • South Korea: Jong-Pil Pyun • France: Emmanuel Benoit, Monika Brugger, François Daireaux, Christophe Daviet-Thery, Baptiste Debombourg, Bernard Dejonghe, Jean-François Fouilhoux, Patrick Neu, Arnaud Vasseux • Netherlands: Caroline Prisse • United Kingdom: Richard Deacon • Switzerland: Esther Brinkmann, Otto Kunzli • Turkey: Osman